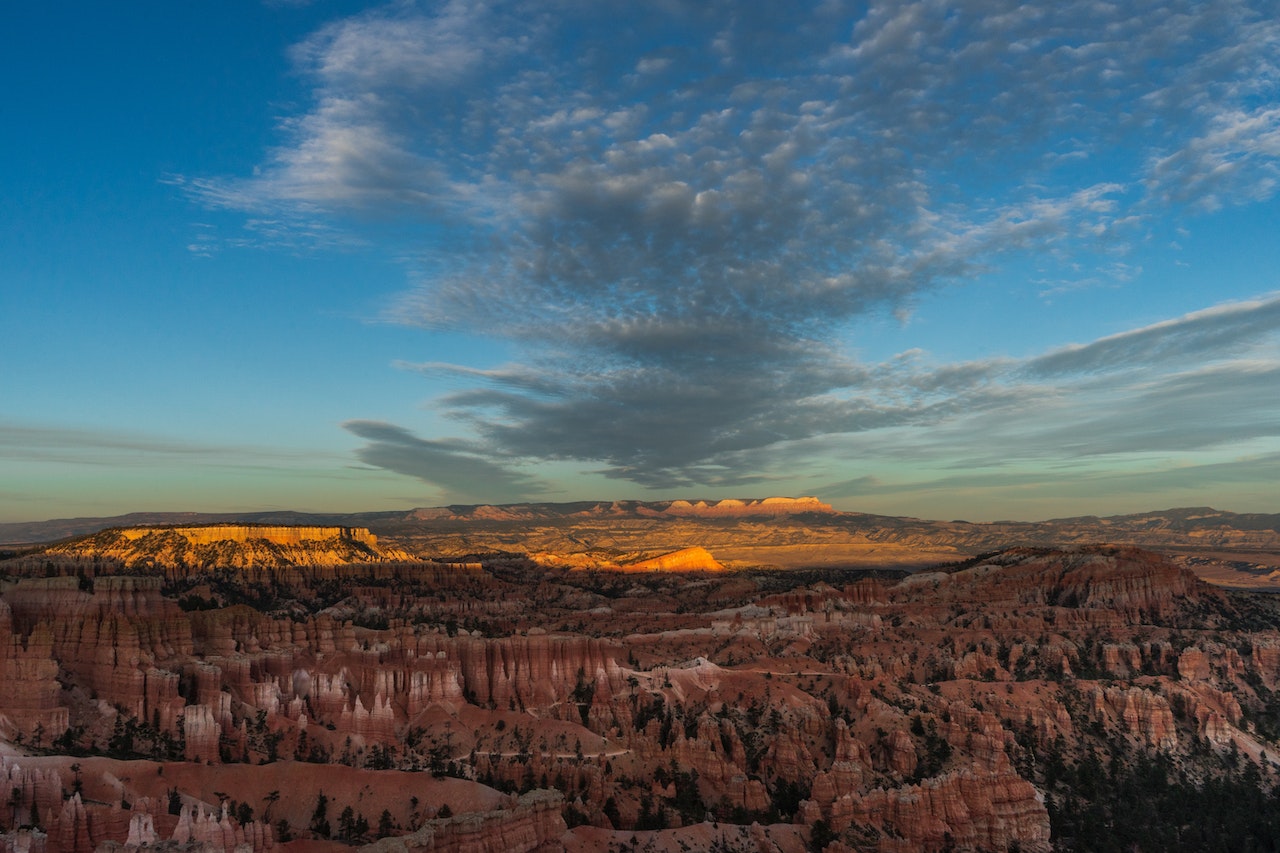 Bryce Canyon National Park
- Bryce Canyon, famous for its worldly unique geology, consists of a series of horseshoe-shaped amphitheaters carved from the eastern edge of the Paunsaugunt Plateau. The erosional force of frost-wedging and the dissolving power of rainwater have shaped the colorful limestone rock of the Claron Formation into bizarre shapes, including slot canyons, windows, fins, and spires called "hoodoos".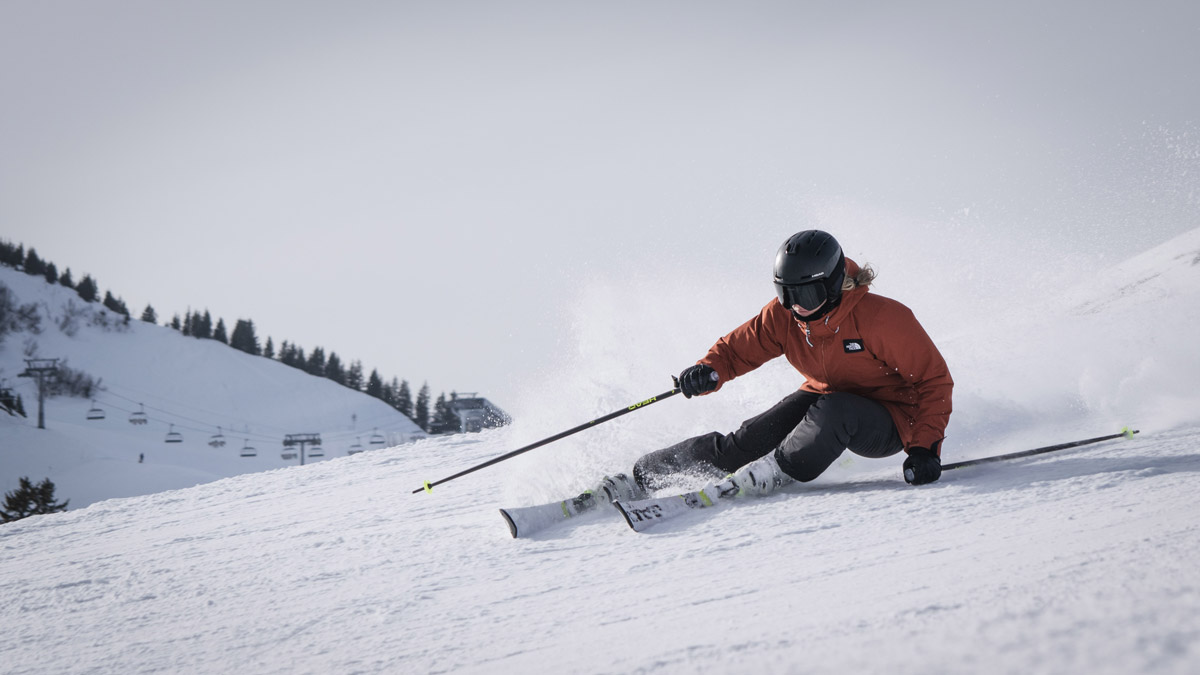 Brian Head Ski Resort
: A family Mecca located in the scenic mountains of southern Utah that boasts incredible powder and consistently excellent conditions in a relaxed, family atmosphere. 400 inches of powder and 650 acres, Brian Head Resort all but guarantees you'll find your own stash.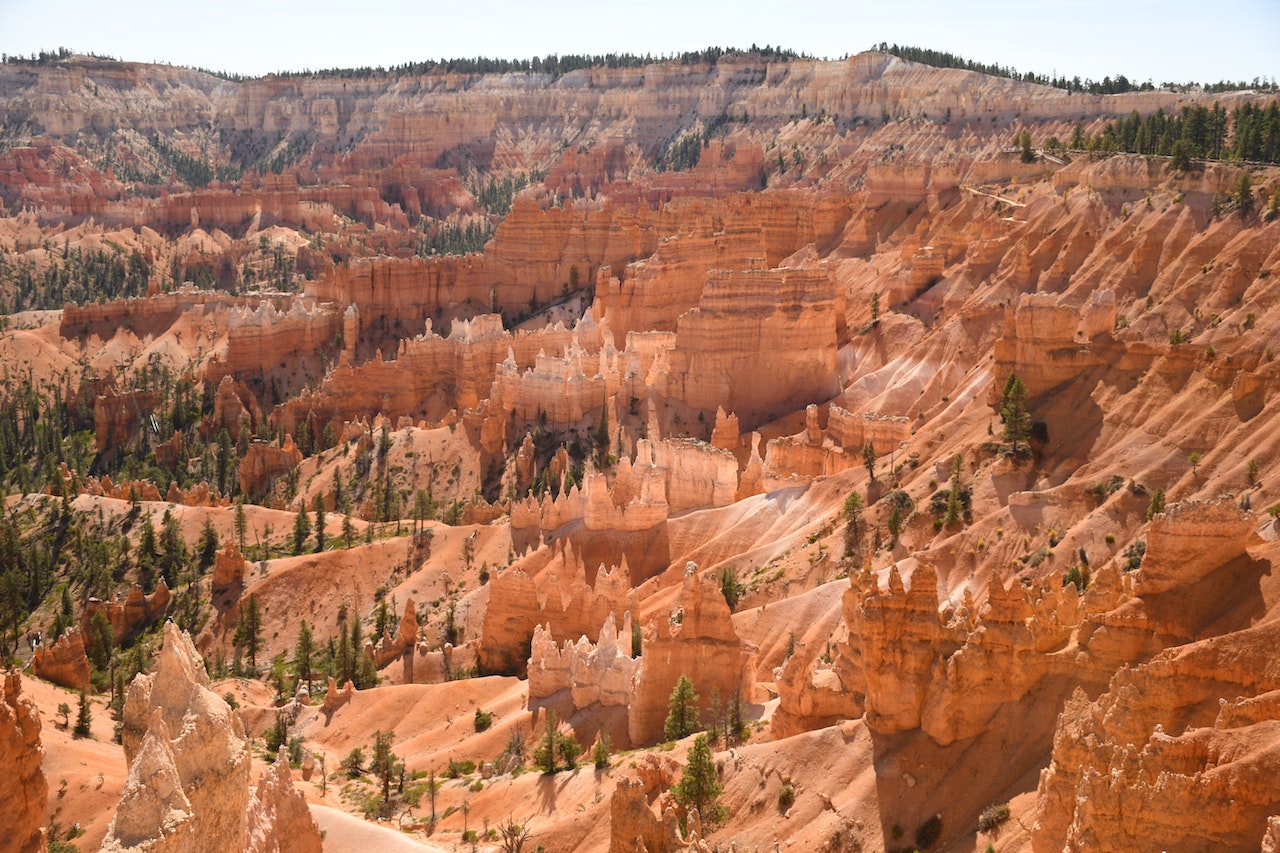 Cedar Breaks
: Although there are many special places to see in the United States, few offer a spectacular view similar to Cedar Breaks. Come visit a park that offers you the chance to stand above 10,000 feet on a cliff edge surrounded by lush forests and flower-covered meadows looking into a desert amphitheater 2,500 feet deep, covered with incredible, multi-colored hoodoos.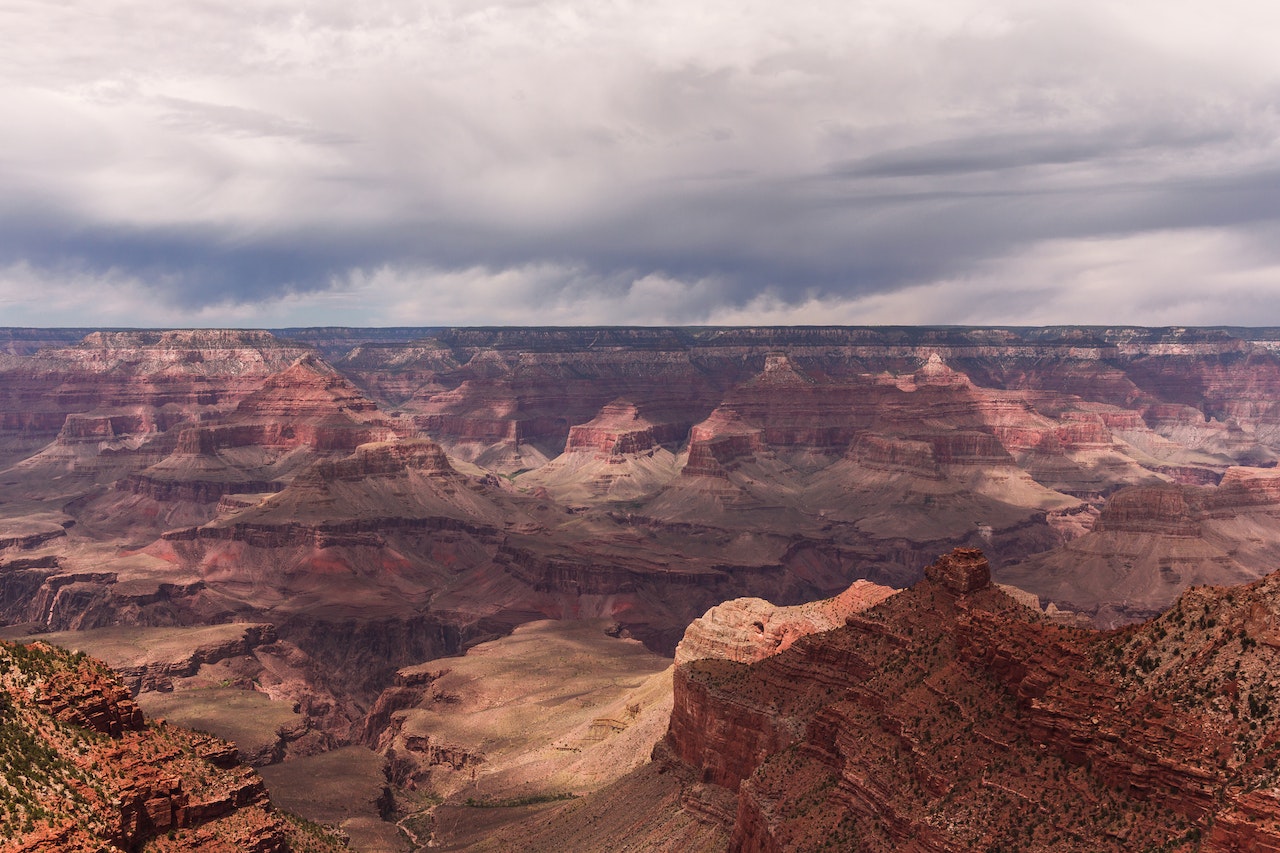 Grand Canyon (North Rim)
- The Grand Canyon is immense. The crevice is a mile deep and over 275 miles long. The park encompasses over 1,200,000 acres, and it is 10 miles wide in many sections. The 6 million year old Grand Canyon is made up of buttes, plateaus and mesas that cover two billion year old igneous and metamorphic rock. This Northern Arizona national park has earned its rightful place as one of the "seven wonders of the world." As one of our most popular national parks, the Grand Canyon is host to about four million local and international visitors each year. Due to the remote location of the North Rim, only a tenth of those visitors will see this magnificent section of the park.
The North Rim of the Grand Canyon is remote; located far from cities, towns and highways, allowing the Kaibab Plateau to remain pristine and primitive. Although this is ideal for a national park, it does have its downfalls.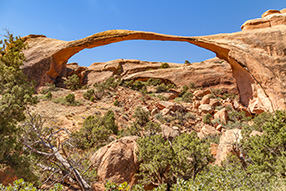 Grand Circle (Arches/Monument Valley)
- The Grand Circle is a beautiful, vast region located in the Southwestern United States. Encompassing portions of five states – Arizona, New Mexico, Colorado, Utah and Nevada – the Grand Circle contains America's largest concentration of national parks and monuments, woven together by extraordinary designated Scenic Byways. Some of America's most diverse scenery can be found within the Grand Circle – the Grand Canyon, Zion National Park, Bryce Canyon, Lake Powell and Arches National Park, just to name a few. Bold splashes of color, fascinating geologic shapes and the mysterious remnants of cultures await you at every turn.
Arches National Park
is a United States National Park that is in Utah's Canyon Country near the town of Moab. It is home to the world's greatest concentration of natural arches, including the famous Delicate Arch that was seen all over the world during the 2002 Salt Lake City Winter Olympics. Arches National Park preserves over 2,000 natural sandstone arches. This area contains the largest concentration of arches found any where in the world, including the world-famous Delicate Arch as seen on the Utah state license plate, in addition to a variety of unique geological resources and formations. In some areas, faulting has exposed millions of years of geologic history.The extraordinary features of the park, including balanced rocks, fins and pinnacles, are highlighted by a striking environment of contrasting colors, landforms and textures.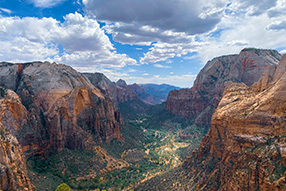 Grand Staircase National Monument
- Grand Staircase/Escalante National Monument includes land with a wide variety of topographical features. This multi-hued landscape can be divided into three regions: The Canyons of Escalante, The Grand Staircase and the Kaiparowits Plateau. Recreational opportunities abound within the vast area included in the monument.
The Bureau of Land Management established the Grand Staircase Escalante National Monument in 1996, and it covers a large section of southern Utah. It is named after striking features along Scenic Byway 12 region of southern Utah. "Grand Staircase" refers to a series of captivating cliffs and plateaus that rise from the Grand Canyon, beyond Bryce Canyon National Park to the Aquarius Plateau. "Escalante" stems from the extensive canyon system in the Escalante River Drainage which was named after an early Spanish explorer of the region. The Grand Staircase Escalante National Monument is one part of the most scenically diverse area in the world.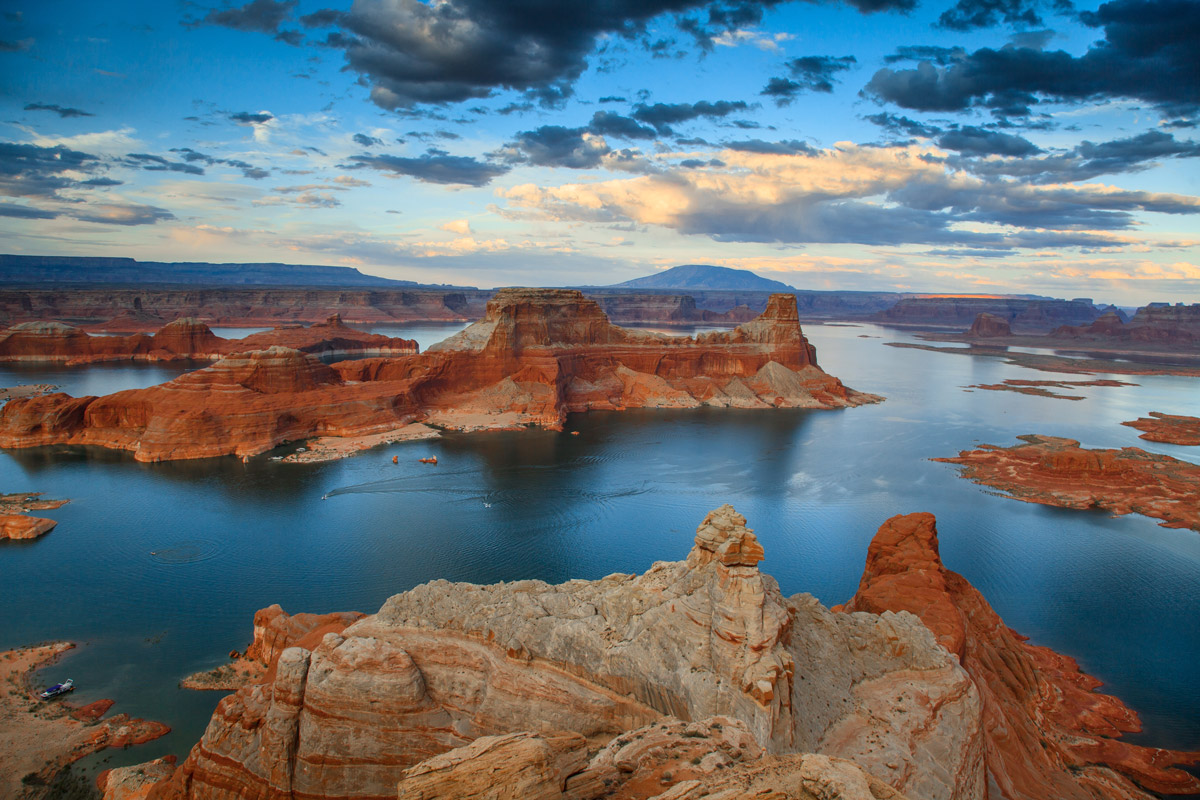 Lake Powell
- Lake Powell is a reservoir on the Colorado River, straddling the border between Utah and Arizona (most of it, along with Rainbow Bridge, is in Utah). It is the second largest man-made reservoir in maximum water capacity in the United States behind Lake Mead, storing 24,322,000 acre feet (3.0001×1010 m3) of water when full. Current water levels, however, put Lake Powell ahead of Lake Mead in water volume and surface area. Lake Powell was created by the flooding of Glen Canyon by the controversial Glen Canyon Dam, which also led to the creation of Glen Canyon National Recreation Area, a popular summer destination. The reservoir is named for explorer John Wesley Powell, a one-armed American Civil War veteran who explored the river via three wooden boats in 1869. In 1972, Glen Canyon National Recreation Area was established. It is public land managed by the National Park Service, and available to the public for recreational purposes. It lies in parts of Garfield, Kane, and San Juan counties in southern Utah, and Coconino County in northern Arizona. The northern limits of the lake extend at least as far as the Hite Crossing Bridge. A map centered at the confluence of the Escalante River WikiMiniAtlas37°17′22″N 110°52′20″W / 37.28944°N 110.87222°W / 37.28944; -110.87222 with the Colorado River gives a good view of the extent of the lake.
Lake Powell is a storage facility for the Upper Basin states of the Colorado River Compact (Colorado, Utah, Wyoming, and New Mexico). The Compact specifies that the Upper Basin states are to provide a minimum annual flow of 7,500,000 acre feet (9.3 km3) to the Lower Basin states (Arizona, Nevada, and California).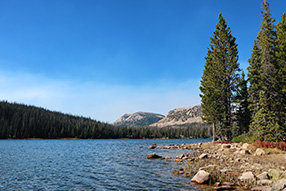 Navajo Lake
: Call it Navajo Lake . . . or call it "Blue Mirror of Heaven" as the Indians did. At Navajo Lake you'll find... Sky Blue Waters, Fresh Air, Delightfully Cool Nights, and scenic grandeur that will give new meaning to the joy of living! Located on the premises you will find a well-stocked General Store. For those of you who are true "Fisherpersons" (my wife assures me this is politically correct.) you will find the Rainbow, Brook, German, and Splake trout for your fishing pleasure.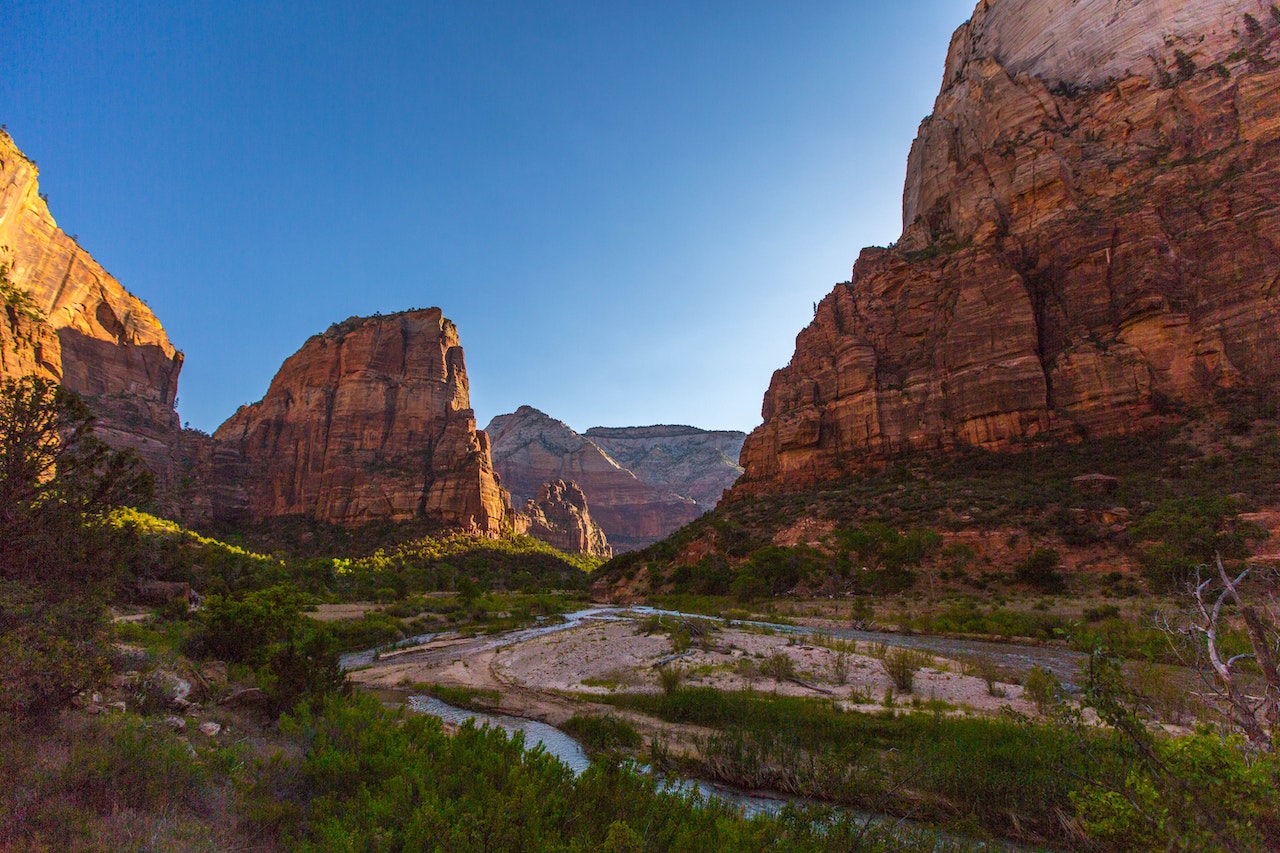 Zions National Park
- Designated in 1919, Zion is Utah's oldest national park. The park is known for its incredible canyons and spectacular views. Famous hikes including The Narrows, Subway, and Angels Landing attract adventure enthusiasts from around the world. Hiking possibilities are endless. With nearly three million visitors per year, Zion is Utah's most heavily used park. Most park facilities are located in the Zion Canyon area, and it attracts the most visitors. There are four main sections in Zion National Park.